➤ The Story Behind Café Recuerdos
In the Fall of 2014, Rhode Island Latino Arts commissioned local Cuban artist, Ana Flores, to work on an exciting community art installation entitled
Café Recuerdos.Café Recuredos
is a visual complement to
Nuestras Raíces: Latino Oral Histories Project of Rhode Island
coordinated by Marta V. Martínez, RILA's Executive Director.
Click here to read more …
The Café Recuerdos project focuses on the popular Latin past-time of drinking café - coffee serves as a memory catalyst for Latin-American immigrants here to remember the community that is absent, and it is also a way of connecting with their new home in America. The project aims to commemorate the Latin American experience, celebrating the hyphenated reality of becoming Latino-American: honoring the past - allá and embracing the present and future here - aquí.

The visual component takes the form of a functional peddlers cart with a bottom base made of steel and scrap metal, and the top side walls made from Café Bustelo coffee cans attached together (see illustration above). It measures 30" x 6' x 6' and it's used as a temporary installation both at indoor and outdoor locations. It has narrative on the front wall made of Café Bustelo coffee cans, with the painted likenesses of Latino immigrants in Rhode Island who have been interviewed, plus other Latinos in the state.

At each location, we will dispense coffee — the smell of coffee is a way to bring people over to visit us. The cart encourages community engagement in public spaces: we set up a temporary café with bistro chairs and tables, and invite visitors to have a plática over un cafecito — to drink their coffee and share stories with us.
Public engagement was also intended to be a part of the fabrication process of the cart. Flores's intention was to reach out to other community artists, students and fabricators to assist with the construction of the project, while, Martínez engaged young people in the collection of community stories at various local venues including schools, libraries and community organizations statewide.
You can contribute to this project!
Do you drink
Café Bustelo
? Do you know anyone who does? We are looking for donations so we can serve hot coffee while the
Café
travels around the state.
Contact us
if you have cans or funds to donate to purchase supplies — coffee, cups, creamer, napkins, etc.
➤ Where it all began: Nuestras Raíces • Our Roots
Posted April 2015
by RILA Executive Director Marta V. Martínez
Above: Founders of El Club Cubano sign their constitution in 1969 that served 300 Cubans who were living in Rhode Island at the time.
In 2014,
Rhode Island Latino Arts
(RILA) received a grant from the
Rhode Island Council for the Humanities
(RICH) to support an oral history project that I started in 1991. It began when I recorded stories from Rhode Island's early Latino pioneers, among them:
Doña Fefa
from the Dominican Republic, who told me that she and her family opened the first
bodega
(Latino market) in the state. Later, I met
Bernardo Chamorro
who came to Rhode Island from Colombia in the 1970s;
Rev. Francisco Litardo
, pastor of
Iglesia Baptista Hispana El Calvario
, the first Latino Baptist congregation in Rhode Island, and also in New England; and
Victor Mendoza
, one of Rhode Island's early political activists.
Click here to read more …
During that time, I always felt unsettled because I felt I was missing an important piece of Latino history in Rhode Island: the Cuban story. In the late 1950s and early '60s, what happened in Cuba had a broad impact around the world and the nation when Fidel Castro came to power. With funds from RICH, I set out to research and learn how this history of
Cuban immigration to Rhode Island
had impacted Rhode Island.
I then reached out to Cuban artist, Ana Flores, with plans to interview and add her story to the oral history collection. Instead, of contributing her story, Ana suggested a more creative way for her to participate.
In 2004, I helped curate an exhibition of Ana's works at the Rhode Island Foundation that featured empty food cans with whimsical art, based on Ana's childhood memories and inspired during a recent trip to Cuba (see below). After we connected again, I met Ana over coffee and Café Recuerdos was born.
Ana Flores, RILA's Teaching Artist and local sculptor and Tim Ferland, Art Production Manager at the Steel Yard in Providence are seen here putting together a "maquette," or a preliminary sample of the coffee cart that will be used as a model for the Café Recuerdos project.

In mid-May, Tim will begin the actual creation of the cart, which will be made of light steel and other scrap metal and canvas.

At the same time, Ana will continue painting coffee can with the faces of people that have been interviewed by Marta for Nuestras Raíces. She will then create a wall of the painted cans and will include stories behind each person featured on the can.
Stay with us as we continue to document the creation of the cart and watch as the stories unfold.
➤ Maredith Youngster Joins the Creative Team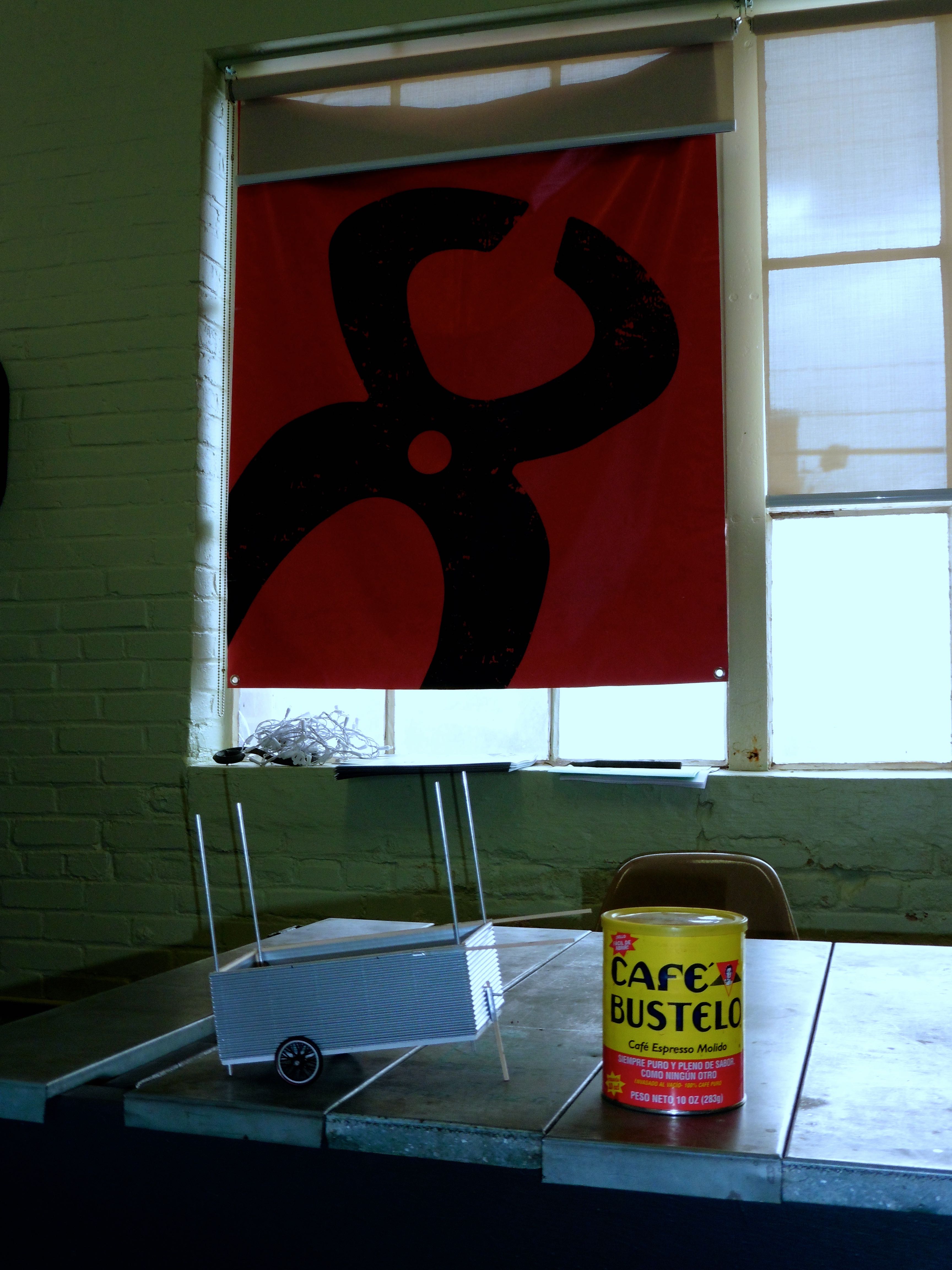 Meredith Youngster of the Steel Yard began work on creating the framework for the coffee cart. Meredith is the Head of Ceramics at the Steel Yard and will be working alongside Tim Ferland and RILA Artist, Ana Flores.
➤ Ana Flores's art studio is filled with coffee cans, color and memories
Ana stopped by the RILA offices and walked away with over 30 empty Bustelo coffee cans.
Within 24 hours she sent us these photos as she began working on creating the walls that will slide into each side of the steel frame of the coffee cart.
For inspiration, Ana has read the stories of Rhode Island Latino Pioneers from the
Nuestras Raíces
, whose faces will be lined side-by-side in bright colors. After reading some of the stories found in the oral history collection, Ana will extract words, memories and will write them on the cans to complete
El Muro de los Pioneros
, the Wall of Pioneers.
There is still much to do. We need more
Bustelo
cans - donations of full or empty cans will be appreciated. Write to us, send us an
E-Mail
if you have cans to donate.
➤ Artists meet and plans are made to capture the work in progress
April 25, 2015
by RILA Executive Director Marta V. Martínez
Meredith Youngster drove 24 hours from New Orleans and arrived last night in Providence. For the most part, she said the trip went smoothly until she hit rush hour in Connecticut. Pow!
In spite of that, Meredith looked bright-eyed and full of energy when she met us today at Steel Yard. Ana Flores wanted to further measure the coffee cart frame and share her vision with Meredith about the functionality of the cart. It's very important that these two artists talk to make sure things like the height is appropriate, that it's not too heavy to push around and that they both agree on the functionality of the design. Discussing counter space, storage and whether the wheels are 17 or 21 inches high is key to communication between both the artists.
Meredith showed Ana a mini mock-up of the cart, which she created from the sketching that she had been provided. Perfect! Ana was thrilled and Meredith smiled back.
Click here for more …
Twenty minutes later,
Jeny Hernández
arrived with her camera in tow. She had spent the morning at a wedding in Lowell, MA and jumped into the car right after the celebration, driving just over an hour to meet us at the
Steel Yard
. The excitement and dedication to the project is electrifying and, like Meredith, she is thrilled to work on the project. We are happy to have Jeny as part of the
Café Recuerdos
team.
Jeny is of Mexican heritage, lives in Providence and is a professional photographer. She will be stopping by
Steel Yard
to follow Meredith's progress and is especially looking forward to the day she begins the welding process: "The more sparks, the better!" she says as she envisions the next set of photos she will be taking next week.