Día de Los Muertos
— celebrated in México, Guatemala, Ecuador, Brasil, El Salvador — is a tradition all about celebrating life and remembering our deceased loved ones. November 1st and 2nd are considered to be the days where life on earth and life in the land of the dead come together. This is a time when the loved ones who have passed-on return symbolically to appreciate life's pleasures, such as eating, drinking and reuniting with their families here on earth.
Día de los Muertos
recognizes death as a natural part of the human experience: a continuum with birth, childhood, and adulthood. On
Día de los Muertos
, the dead are also a part of our community, awakened from their eternal sleep to be in spirit with loved ones.
A Community Ofrenda | 2021

Click below to post a remembrance on this website and we will add the name of a loved one to our

Traveling Puertas Ofrenda

.

The

Puertas Ofrenda

will be on display on November 2nd, during our annual celebration of life and on permanent display at

La Galería

@RILA.

This year's celebration of

Día de Los Muertos

in Rhode Island will be held at the North Burial Ground, 4 Main Street Providence 02904. We will set up a public ofrenda, offer educational information and crafts for children, followed by a procession to a designated area in the cemetery.

Tuesday, November 2, 2021

Gathering begins at just before dusk: 5:00 PM

⭑ More details to come
Photos by Neil Dixon, Historic New England

Why We All Need to Celebrate Día de Los Muertos in 2020

Rhode Island, like the rest of the country, is in the middle of a worldwide pandemic. As of this writing, the state has

confirmed 34,120 cases and 1,246 deaths

due to COVID-19.

Families whose loved ones have died during the pandemic have faced unprecedented restrictions and challenges. To not say goodbye to loved ones, to not have loved ones attend funeral services, or to not even find a permanent resting place for a loved one is changing how people grieve. In its early stages, most families were forced to hold graveside funerals and postponed memorial services until the stay-at-home orders and restrictions on group gatherings were lifted. And even then, these gatherings were difficult because families could not touch or hug each other.

Despite the physical restrictions, this year more than ever, Rhode Islanders need to come together to collectively celebrate the lives of those who have lost their lives to COVID-19. Día de Los Muertos can provide a way for us to shed the sadness brought on by the pandemic and instead celebrate the lives of those who have left us.



In line with our annual cultural celebration of

Día de Los Muertos

, RILA is partnering with

Trinity Rep

and the

Providence Public Library

to organize a culturally appropriate community event in the City of Providence that is based on the Mexican cultural celebration of

Día de Los Muertos

. This community event will provide a safe space for individuals who lost family members to COVID-19 to celebrate the lives of their loved ones.

Here is how you can participate:



Join us on

Monday November 2nd at 5:00PM at the steps of the

Providence Public Library

on Washington Street, Downtown Providence

and bring the following to place on a

Community Ofrenda (Altar):



The name of someone you wish to remember.

A digital copy of a photo of him/her to leave behind.

Another memory — an image of it or

*

the object itself — an item that reminds you of him/her, a favorite food, a piece of art that he/she cherished or that reminds you of them.

A short written memory to leave behind or that you would like to share as a recording (we will have recorders).

Be ready to helps create an arts installation by writing the name of a deceased loved one on our traveling door panels, set up as part of the altar. We will provide the supplies.




*

NOTE:

Items left overnight are at your own risk. RILA, the PPL and TR will not be responsible for damage or theft of personal objects.

The Ofrenda

will be on display on November 2nd until 8PM. We ask that all objects be removed from the altar at the end of the event or they will be discarded.

Ofrenda Tour // October 24 - November 2, 2020

Between October 24 and November 2, 2020, we would like to invite the public to visit any/all Mexican-owned businesses listed below in Providence, plus La Galería @RILA in Central Falls to view the traditional ofrendas, created by staff and owners of each business.

While you're there, purchase food or drink and receive discounts on selected items. To make this a fun event for all, look for the Sugar Skull logo (pictured below), take a picture in front of the altar and post on RILA's FB page or tag us on all our social media platforms (Instagram, FB and Twitter). Be sure to use this hashtag: #OfrendaTourRI

We ask that you be respectful of the meaning behind this celebration and the ofrendas and do not touch the altars or dress inappropriately when you take your photo. This is an educational event/celebration so feel free to ask the staff at each location about the meaning behind their altar.

For those who visit every location on the list, your names will be entered to win a SPECIAL PRIZE and the week of November 2nd, we will randomly select three winners.

Casa Azul Taquería
890 Allens Avenue
Providence 02905

Casa México
802 Atwells Avenue
Providence 02909

Chilangos Restaurant
447 Manton Avenue
Providence 02909

La Galería @RILA
209 Central St.
Central Falls 02863

Shastea Bakery
300 Broadway
Providence 02903

Día de Los Muertos | Community Ofrenda
Providence Public Library
145 Washington St.
Downtown Providence
Our brother, JR had moved to Rhode Island [from New York] because he was recovering from a stroke. He was in a Rehab facility in East Providence. It was one of the last facilities in Rhode Island to get COVID, and he was one of the last people there to get COVID. Unfortunately, he did not do well.

J.R. died in beginning of June, during the first surge. He was waiting to get assistance, but not long after he went there to get care, he got sick before we knew it!

He was an avid music fan, but "fan" doesn't do it justice. Beatles, Ramones, Punk Rock. He was also a Mets fan. He grew up and lived in New York's Long Island his whole life. He was very, very, kind, gentle, quiet and introverted.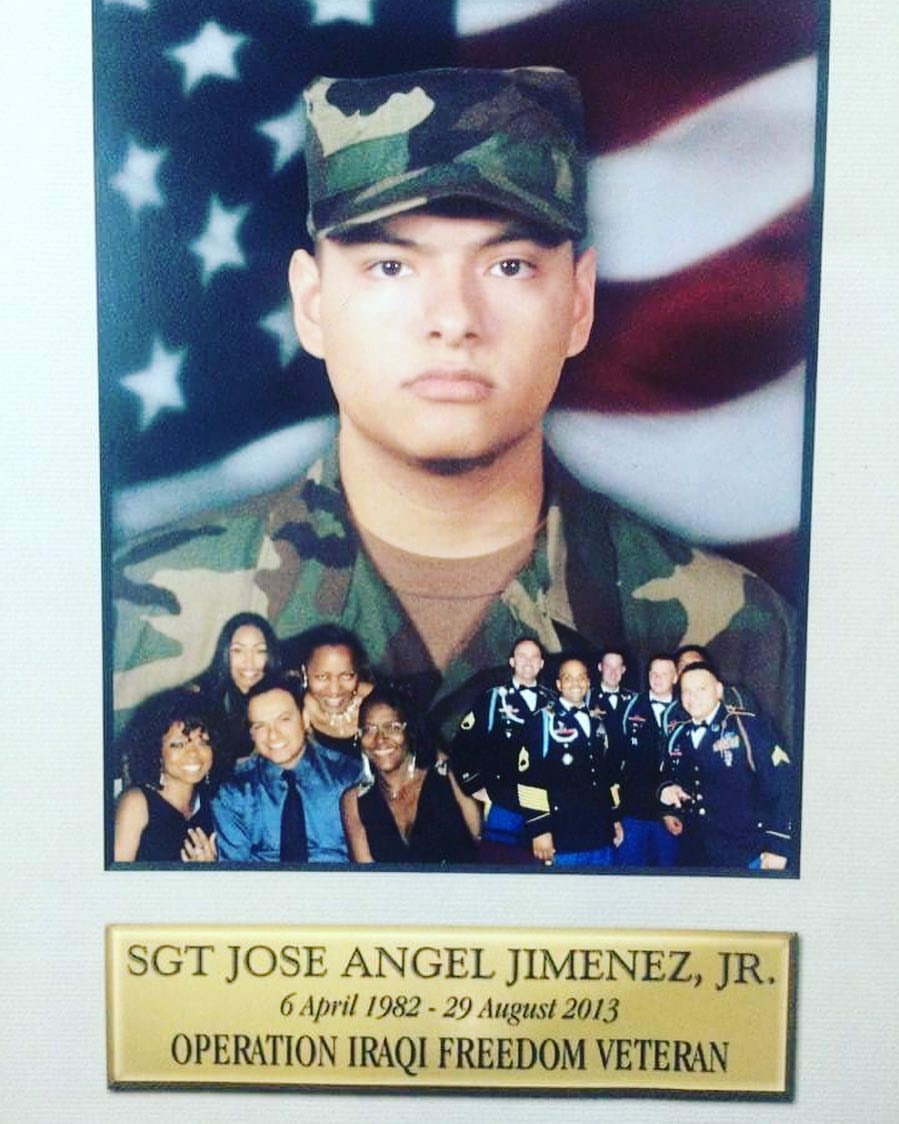 My Brother/ Mi Hermano: There is so much I wish to say as I think of you every day. You were the heart, soul and protector for me and mom. I always knew you were someone special that believed in giving your shirt off your back when someone was in need, and giving back to our community/church as an offering of thank you for shaping us into strong individuals.

The day I knew you were destined to protect our country was in high school. The way you stood proud to be in a JROTC uniform, and the moment you shared with mom your future plans. I know she was fearful like any parent, but she did not object because she was proud that you were following in all our uncles' footsteps, as each uncle served in a different branch.

I miss the way we communicated as you were overseas. You watched me grow up through our E-Mail conversations and care packages of snacks and pictures of me and mom. It was hard, but it was the new norm to grow up with your loved one over E-Mail. The years passed you kept re-enlisting because you felt this is what you had always dreamed of doing: "protecting her (USA)."

When the day came and we heard the news, I didn't want to believe it … I wish you were here to give us a big hug but I know we will always be together.

To My Hero, my guardian angel, my Brother
From your loving sister, Maritza R. (Jiménez) Luebbers
RILA receives funding from the Rhode Island State Council on the Arts, the Rhode Island Council on the Humanities, Department of Art, Culture + Tourism and the Rhode Island Foundation.