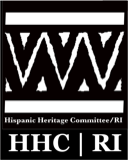 The logos pictured above are: our first logo (1990-1998) created by an artist in East Greenwich, who won our statewide logo contest. The sun logo branded our organization (all under one sun) from 1999-2004, and the color logo (far-right) was designed by local artist, Juán Manuel Cano of Warwick.

The Hispanic Heritage Committee Rhode Island
is the state's oldest celebration of Latino art & culture. It was formed in 1988 by Chair and Founder, Marta V. Martínez, who organized the first statewide Hispanic Heritage Week in the Fall of 1989. It became a month-long celebration in 1991. HHCRI continues to promote and support local Latino art and artists, and commemorates National Hispanic Heritage Month every year from September 15-October 15.
During the first celebration, representatives statewide in the arts & humanities, such as the RISD Museum, the Children's Museum, and Providence College came together with HHCRI to produce events which reached out to a broad audience, instilling pride in local Latino immigrants; helping second-generation Latino's connect to their heritage; and engaging non-Latino's in understanding the cultural contributions of their fellow citizens. At the first kickoff event of Hispanic Heritage Week, 1989 Martínez's keynote address included the following:
"Hispanic Heritage Week will be celebrated in Rhode Island for the first time in music, dance, and culture and will be a time for Hispanics to stand together and show our pride in our culture. It will be a chance to emphasize our similarities and work together in an effort to share our cultures with all people. There are approximately 50,000 Hispanics living in Rhode Island, many of whom have brought with them the music, art, legends, literature and customs of the Latin-American and Caribbean cultures. Although many of these traditions have undergone changes and adaptations, Hispanics do not want them to become lost and forgotten after they arrive to their homeland...."
These words continue to hold true today, as HHCRI plans for an ever-increasing Latino population, whose pride in its heritage is often jeopardized - particularly among younger generations - by pressures to assimilate into a new culture. According to the statistics of the US Census Bureau (April, 2011), the population has undergone a 30% increase since 2010, now numbering in Providence alone, over 67,000. Given that number, and the scarcity of organized bilingual/bicultural resources for Rhode Island's Latino immigrants, HHCRI feels that there is a need to fulfill one of the population's most personal needs - that is, a need for Latinos to express themselves and to stay deeply connected to their their art, culture and history.
HHCRI's achievements have been manifold. One of the best results of its community endeavors has been that many new Latino artists emerged from the shadows. HHCRI eventually assembled, and still maintains, a comprehensive
Latinx Artist's Directory
. Another indication of success is that the celebration of Hispanic Heritage went from a week to a month-long celebration in 1991, making possible a much greater range of activities and outreach incentives.
HHCRI's achievements have been recognized not only in the local arts community, but also by those in the political sector as well. In 2009, HHCRI partnered with Providence City Hall's Department of Art, Culture & Tourism, the Providence Latin-American Film Festival, Centro Cultural Latino and other community members to create a "Rhode Island Latino Community Celebration," which focused on presenting a dynamic series of arts events for all ages during Hispanic Heritage Month. In 2010, the Rhode Island State Council on the Arts partnered to ensure the success of that year's celebration. And in 2011, the HHCRI received financial support from the Rhode Island Foundation to expand its programs and activities to include families and family-focused community organizations and museums. Joint programming and these important partnerships has allowed HHCRI to reach wider audiences who eagerly await the celebration, each fall, to see what new projects will be happening!
The greatest outcome of the HHCRI's efforts to promote Latino arts in the past 25 years, is that many Latino artists who may not have had the capacity - mainly because of language or cultural differences - were able to make important connections with the community at-large through our organization. Rhode Islanders have since enjoyed the rich culture of its local Spanish-speaking community, not only during the celebration of Hispanic Heritage Month, but throughout the year.
Today the Hispanic Heritage Committee of RI (HHCRI) is a (501(c) non-profit organization and we are the longest continuous non-profit organization that supports Latino art, culture, and history in the state. We continue to organize, promote and support local Latino art and artists and we still commemorate National Hispanic Heritage Month every year from September 15-October 15.
In 2013, for our 25th anniversary, we made some changes that reflect our mission as it has evolved through the years, and we look forward to creating, stimulating and supporting artistic activities and cultural interaction among Latino artists and non-Latino artists by:
Developing stronger networking opportunities among Latino artists and non-Latino artists and arts organizations.
Working more closely with local galleries and museums to sponsor spaces for artists to display their art.
Providing deeper educational experiences to artists, professionals, students, youth and families in the form of exhibits, seminars, panel discussions workshops, book presentations and speakers.
Forming an alliance among public and private entities involved in promoting art and cultural programs and projects.
In 2016, we took the next step to becoming a more established organization and opened
La Galería del Pueblo
. Located at 2154 Broad Street in Pawtuxet Village | Cranston,
La Galería
's first opening was a packed house of artists and supporters, and it became immediately clear that first day that artists were looking for a home like ours to call their own. The gallery remained opened for 18 months, and then moved to a bigger location in Central Falls.
2021:
Today,
La Galería
@RILA includes a visual arts gallery, hosts artists creative circles, is the home
Teatro del Pueblo
and our Black Box performance space, and is the official home of the
Latino Oral History Archives of Rhode Island.


RILA's staff and board are currently launching a 3-year search for a larger and more permanent cultural space. Stay tuned for what's to come.